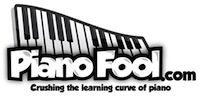 ---
Learn to play piano
"You're About To Learn Secrets That Most Piano Students Will Never Know About How To Really Play The Piano Fast With Songs You Love... Eliminating Scales, Sheet Music And Boring Exercises"
Turn Up Your Speakers And Listen, You Will Be Glad You Did.
"I Am Going To Give You A Video Showing You The EXACT Method I Used That Allowed Me To Go From Zero Piano Skills To Learning 40 Songs In 9 Days To Play My First Paid Dueling Piano Show"

Once inside you'll learn...

One insanely simple secret that allowed me to learn 40 songs in 9 days for a dueling piano show.


Using this breakthrough layer method eliminates the need for sheet music and lets you learn any song you want in days.


Why the piano IS the easiest instrument to play in the world.


Why it's not traditional piano teachers fault that their teaching methods set you up to fail and empty your wallet in the process.


How PianoFool students with zero musical background learned to play "Let It Be" in 30 days only practicing 10-15 minutes a day.

And that's just a tiny sample!

You can get all the details right now by downloading the "Dueling Piano Players Secrets Revealed For The Beginning Student". Just fill out the short, easy form on the right to get started.
| | | |
| --- | --- | --- |
| SECRET #17: The Secret Dueling Piano Players Know That Will Give You The Key To Learning HUNDREDS Of Songs At Will. | SECRET #13: You Will Learn Why EVERY Song is The Same And How To Recognize Three Things To Immediately Explode Your Playing Ability At Will | SECRET #8: I'll Show You How To Skip Reading Notes And Play More Songs Than Those Who Do! |
© Copyright PianoFool.com All Rights Reserved.
Privacy Policy | Terms of Use | Contact Us